About Rollo May
The second-oldest of six children, Rollo's grew up in small-town Ohio and Michigan in the early decades of the 20th century.
After graduating from Oberlin College, he attended brief seminars with Alfred Adler in Austria and then obtained a divinity degree from Union Theological Seminary in New York City in 1938. There the theologian Paul Tillich became his mentor. After a brief, unsatisfying stint as a Protestant minister, May embarked on a Ph.D. in clinical psychology at Columbia University with psychoanalytic training at the William Allan White Institute. His 1949 dissertation on anxiety became his third book and attracted wide interest. For nearly the next three decades, May was a Manhattan-based psychotherapist, prolific writer, and intermittent academician. His book Love and Will became a bestseller in 1969. May moved to the San Francisco area several years later, where he continued to write, train graduate students as clinicians, and lecture widely.
May also still conducted psychotherapy. Among his favorite therapeutic questions was: "What is going on with you now at the deepest level that you can get a hold of?" It's a key question for all of us--and one sure to catalyze personal growth.
Birthplace: Ada, Ohio
Rollo May was named after the fictional character "Little Rollo," May's father was a YMCA organizer, and his mother mainly involved in raising their six children. He was the second child and first-born male in the family.
Growing up: Marine City, Michigan
Rollo was a lonely boy in this small town situated on the shores of the Saint Clair River. He later described the river as a "clean, daemonic, and beautiful friend." He enjoyed swimming and ice-skating as sports.
College Years: Michigan State University
In the fall of 1926, May enrolled at what was then the Michigan State College of Agriculture and Applied Science. Though bored by his classes, he enjoyed cofounding and writing for a student newsletter called simply THE STUDENT.
Oberlin College
May transferred to Oberlin College in the fall of 1928 and graduated in 1930 with a degree in English. Much happier there, he felt a particular affinity for ancient Greece, whose study May later fondly recalled "was the richest, most valuable class I ever took."
Teaching English in Greece: Anatolia College
From the fall of 1930 to the spring of 1933, May taught English to young teenage boys at this academy originally founded by Christian seminarians.
May often felt lonely in this role, but enjoyed the ambiance of Salonika and wider Greek surroundings.

"with special thanks to the "Anatolia College Archives & Special Collections"./ «Με ιδιαίτερες ευχαριστίες στο Αρχείο του Κολλεγίου Ανατόλια»
© Trustees of Anatolia College/ΈφοροιτουΚολλεγίουΑνατόλια
"with special thanks to the "Anatolia College Archives & Special Collections"./ «Με ιδιαίτερες ευχαριστίες στο Αρχείο του Κολλεγίου Ανατόλια»
© Trustees of Anatolia College/ΈφοροιτουΚολλεγίουΑνατόλια
Anatolia's main building in the 1930s
"with special thanks to the "Anatolia College Archives & Special Collections"./ «Με ιδιαίτερες ευχαριστίες στο Αρχείο του Κολλεγίου Ανατόλια»
© Trustees of Anatolia College/ΈφοροιτουΚολλεγίουΑνατόλια
The Anatolia's College campus life took place in three different relocations. The original campus was in Merzifon in Turkey , from 1886 to 1921. The school relocated to Thessaloniki, after the invitation of Prime Minister Eleftherios Venizelos . After that , the campus moved to Charilaou in 1924 . Anatolia College moved to its current location in 1934.
College Building at Charilaou. That building was used for faculty housing until the College moved.
"with special thanks to the "Anatolia College Archives & Special Collections"./ «Με ιδιαίτερες ευχαριστίες στο Αρχείο του Κολλεγίου Ανατόλια»
© Trustees of Anatolia College/ΈφοροιτουΚολλεγίουΑνατόλια
"with special thanks to the "Anatolia College Archives & Special Collections"./ «Με ιδιαίτερες ευχαριστίες στο Αρχείο του Κολλεγίου Ανατόλια»
© Trustees of Anatolia College/ΈφοροιτουΚολλεγίουΑνατόλια
Student body in the late 1920s
"with special thanks to the "Anatolia College Archives & Special Collections"./ «Με ιδιαίτερες ευχαριστίες στο Αρχείο του Κολλεγίου Ανατόλια»
© Trustees of Anatolia College/ΈφοροιτουΚολλεγίουΑνατόλια
Photo of Class 1930 with Faculty.
"with special thanks to the "Anatolia College Archives & Special Collections"./ «Με ιδιαίτερες ευχαριστίες στο Αρχείο του Κολλεγίου Ανατόλια»
© Trustees of Anatolia College/ΈφοροιτουΚολλεγίουΑνατόλια
"with special thanks to the "Anatolia College Archives & Special Collections"./ «Με ιδιαίτερες ευχαριστίες στο Αρχείο του Κολλεγίου Ανατόλια»
© Trustees of Anatolia College/ΈφοροιτουΚολλεγίουΑνατόλια
"with special thanks to the "Anatolia College Archives & Special Collections"./ «Με ιδιαίτερες ευχαριστίες στο Αρχείο του Κολλεγίου Ανατόλια»
© Trustees of Anatolia College/ΈφοροιτουΚολλεγίουΑνατόλια
Studying art with Joseph Binder
In the summer of 1932, May became close with artist Binder in Austria, and they traveled together on the ship to America when May returned in 1933. The two became lifelong friends in New York City beginning in the mid-1930s. Binder inspired May's interest in aesthetics and psychological well-being.
Studying for his divinity degree at Union Theological Seminary
In 1933 May became a divinity student at this liberal Protestant seminary, where he studied with the German emigre theologian Paul Tillich. He became May's important mentor, and they also became close friends. May returned to Michigan in 1934 to help his mother and siblings financially, finally graduating from Union in 1938.
Minister at First Congregational Church in Verona, New Jersey
From 1938-1940, May was the young minister of this Congregational church in northern New Jersey, a reasonable commute to New York City. Newly married with twin daughters, he was quite unhappy in this position. It catalyzed his decision to become a professional psychologist and he never gain served in a religious capacity.
Doctoral study in clinical psychology at Columbia University
In 1941, May enrolled in graduate psychology study at Teachers College of Columbia University to become a clinical psychologist. His chief mentor was Otto Klinenberg, who wrote about racism in the social sciences.
Instructor at City College of New York
In the early 1940s, May was an adjunct instructor and counselor at City College while engaged in doctoral study at Columbia University and helping to raise three young children. He taught evening classes, adding to his physical and mental stress.
Tuberculosis patient at Trudeau Sanatorium
After developing TB, May in 1943-1944 was a patient at Trudeau Sanatorium at pastoral Saranack Lake, New York. Confined to bed rest, he did a lot of existentialist reading including Kierkegaard. This convalescence was a life-shaping experience.


At the front left is the Hoffman Cottage, with its cure porch hanging over the edge of the road. It was later torn down. The photo is looking straight into the back of the Administration Building service area. To the right is the Medical and Reception Building. The road curves right between the two last named. c. 1945. Courtesy of Noreen Oslander
An aerial view of the Sanatorium
Photograph #07.56 courtesy of the Adirondack Research Room, Saranac Lake Free Library
Trudeau staff and summer interns. Seated, from left, Dr. Gordon Meade, Dr. Roger Mitchell, the woman doctor was from New York City doing a short post-graduate course, the others are unknown (Summer, 1953 in front of the Administration Building). The back row were five third year medical students on externship program of six weeks duration. From left: Lansing C. Hoskins, Bernice Russell (now Wylie), unknown, Clay E. Phillips Jr., unknown; the externs were entering their final year of medicine at the University of Rochester. except for Bernice Russell who was at the University of Toronto Medical School. [Information provided by Bernice Russell Wylie, who wrote "Thank you for uploading this picture. It was quite a surprise to find it as I was just reminiscing to myself about the wonderful summer of training and terrific patients and Staff I met while in Saranac."] Historic Saranac Lake collection, TCR #226.
Trudeau Sanatorium, Trudeau, NY, Photo Courtesy of Noreen Oslander
Trudeau Sanatorium, Trudeau, NY,
Courtesy of Noreen Oslander
Return to clinical psychology study in New York City
Under Tllich's supervision, May focused on the nature of anxiety for his dissertation. He was awarded his degree in 1949, and his dissertation The Meaning of Anxiety was published as an academic book the following year.
CREDIT: HULTON ARCHIVE CREATIVE
Training at the William Alanson White Institute
I'm always working on something. Most of the time, it's getting results for my clients. But sometimes, it's a personal project that lets me explore new concepts and ideas.
During the mid-to-late 1940s, May studied psychoanalysis and trained at the
newly-formed William Alanson White Institute in Manhattan. Breaking away from
traditional Freudianism, its luminaries included Erich Fromm, Frieda Fromm-Reichmann,
and Harry Stack Sullivan.
Lecturing at the New School for Social Research
Throughout the 1950s, 1960s, and mid-1970s, May lectured often at the New School in Manhattan. His topics included anxiety, creativity, and existential psychology.
Writing books, articles, and book reviews
During these years, May was not only a prolific book writer but also authored many journal articles and book reviews for popular newspapers and magazines.
Practicing analyst, existential psychotherapist, and clinical supervisor
During the same period, May was a supervising analyst at the William Alanson White Institute and an active psychotherapist. He had his office on the top floor of the iconoclastic Master Building with a magnificent view.
Getting Away at Holderness, New Hampshire
Beginning in the early 1950s, this rural locale became May's vacation home, conducive to writing.


Relocating to California in 1975
By his mid-60s, May had grown tired of New York City's winters and concrete milieu. He moved to the San Francisco area, where he continued to write, conduct therapy, and train clinicians.


Friend and Colleague James Bugental
A leading theorist of humanistic psychology and psychotherapy, Bugental was one of May's closest friends in his California years.


"Beauty is serene and at the same time exhilarating; it increases one's sense of being alive."
--Rollo May, My Quest for Beauty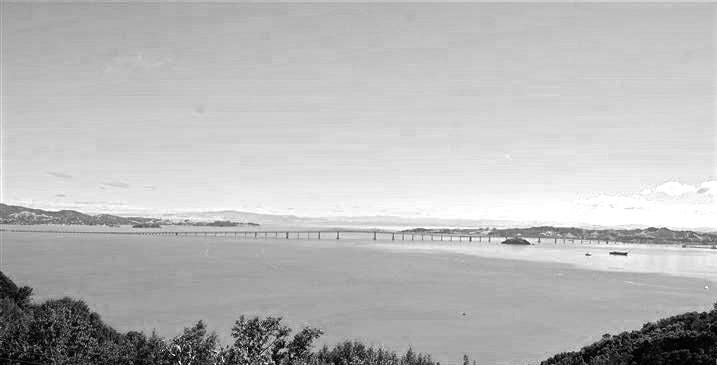 View from Rollo May's home in Tiburon, California overlooking the San Francisco Bay
Kirk Schneider
Rollo May trained many clinical psychology graduate students during his final years in California. Among these was Kirk Schneider, who co-authored with May his final book, The Psychology of Existence.